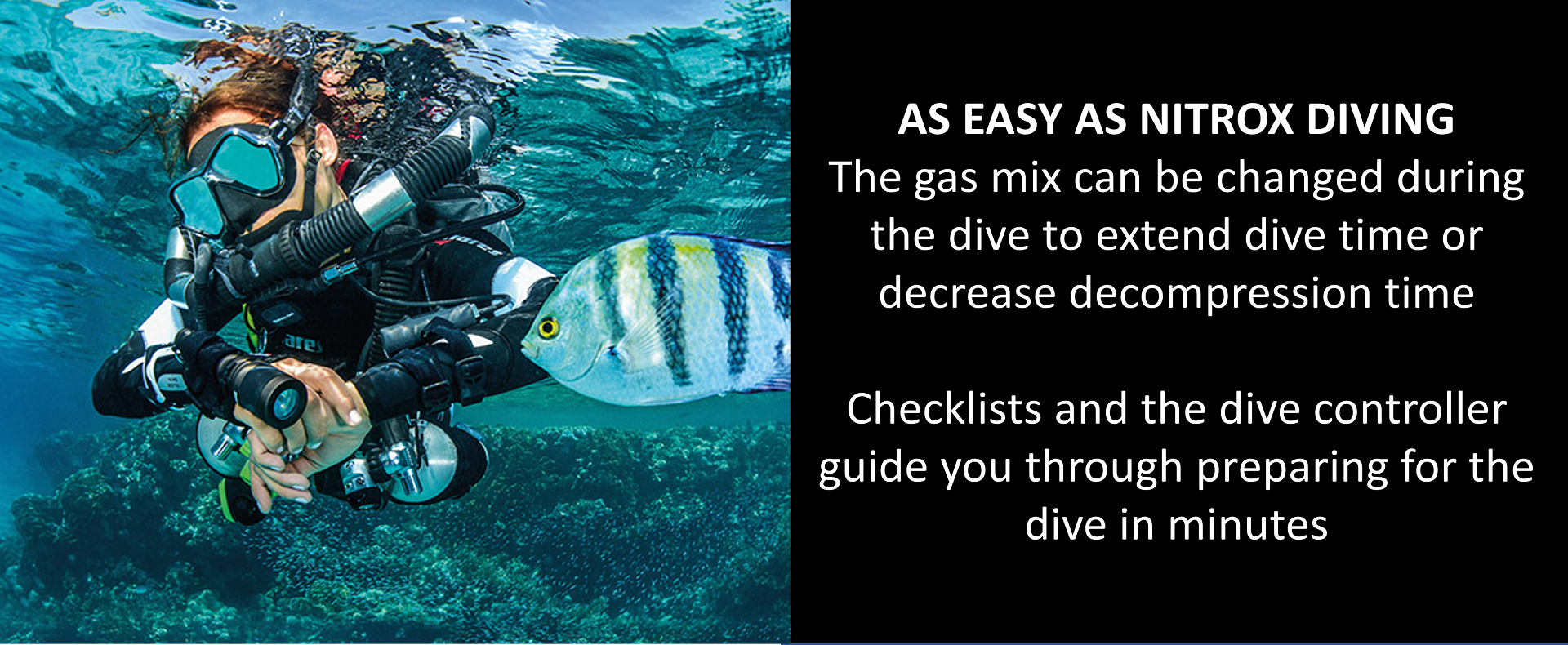 ---
COURSE SCHEDULE
---
The Horizon training course is set up to get you comfortable and capable diving your Horizon rebreather. We move through the course one-on-one to ensure that you understand how to plan your dive, prepare your unit, dive on the Horizon, and how to pack everything up after. Here's the general outline of the course:

Knowledge Development
Digital Student Materials -

You will read about the theory behind rebreather diving and learn how the Horizon works as well as watch videos on the skills we will practice

Classroom Session 1

We will learn some of the basics about the theory of rebreather diving and how the unit works

Classroom Session 2

We will spend time with the unit learning how to properly check and care for the unit

Classroom Session 3

We will go through dive planning and managing stress and emergencies underwater

Dry Land Session
We will get the unit set up for you, including configuring all straps and adjusting the unit to your body to ensure comfort underwater

Pool Sessions
Pool Session 1

The basics of establishing and controlling buoyancy underwater while rebreather diving

Pool Session 2

Learning and practicing emergency scenarios as well as more buoyancy practice

Ocean Dives
We will complete four dives on the unit so you can practice your skills and get comfortable on the unit
---
FREQUENTLY ASKED QUESTIONS
---
Does it take a long time to set up the Horizon to dive?
No, the Horizon was built to be easy to use and easy to set up! As with all diving, you have to give yourself some time to set up and check your gear, but experienced Horizon divers can set up their unit in about 15 minutes.

Does it take a long time to breakdown and clean the unit?
No, the Horizon does take a little longer than traditional SCUBA gear to clean, but the whole process takes about 15 minutes for an average dive.

Do I need special tanks to dive the Horizon?
No! You can dive the Horizon with any nitrox tank above 30% so it's easy to rent tanks while abroad or borrow a tank while on a boat trip. This is a unique feature of the Horizon system that makes it easy to dive!

Can I travel with the Horizon?
Absolutely! The Horizon was designed for travel! The unit weighs less than 40lbs and can fit in a standard suitcase that meets airlines requirements. Since you can use standard tanks, you do not have to worry about bringing tanks with you!

Are rebreathers more dangerous than other SCUBA?
All diving comes with risk, but the Horizon has several features to minimize risks to a diver. The Horizon is built for recreational use and helps divers make safe dives!

Do you really see more marine life?
Yes! You will be amazed at the surreal calm and quiet of the underwater world!
---
COSTS
---
$6995

The above price includes all of the following:
Horizon Rebreather Unit

Full Course Training (Classroom, Pool, and Ocean training)

Bottom Gas Regulator

Tank Rental for Course

Scrubber for Course

Digital Student Materials
---
Want to learn more about rebreather diving?